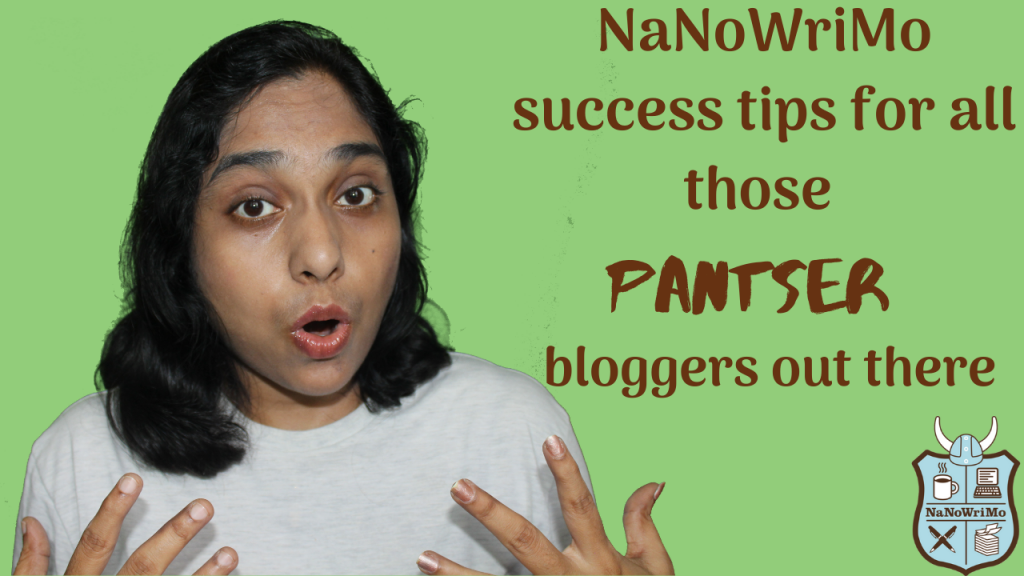 Well it is almost two weeks into November, and it is NaNoWriMo.
If you are hesitant (still!) about whether to embrace the NaNoWriMo thing or not, this post might help!
Let me briefly tell you this though – NaNoWriMo is not ONLY for those who write novels, as the name suggests.
If you are a non-fiction author – a bogger, in particular, then you can make use of NaNoWriMo spirit this month.
There are of course pros and cons to taking up on the NaNoWriMo stuff, which I will share next week.
For now, let me share some of the success tips that has worked for me over the years when I had participated (unofficially) in the NaNoWriMo marathon.
Before that let me tell you this – I am a planner and NOT a pantser.
So who is a planner and who is a pantser?
A planner is a person who plans out things in advance.
For instance, for this NaNoWriMo people around the world do the prep in September!
And yes, it does involve that much preparation.
If you are writing a novel you certainly need to plan it out, get the outline done, and character etc. done too.
If you are a blogger who is looking to write a few blog posts, e-books or content for videos, courses etc. you need to get the tentative titles (brainstorm), get the reference materials handy, outline the blog posts or courses and so on.
So it doesn't matter whatever you are going to write for NaNoWriMo, you need to do the prep – no doubts.
And that's how I've done it all these years.
This year though, I had to face NaNoWriMo as a pantser.
So who is a pantser? A person who flies by the seat of their pants.
A person who faces a big chunk of work without any planning – and somehow manages to get it done!
Although I don't usually appreciate a pantser approach to anything, sometimes you gotta embrace things.
I believe if you want to get something done, you gotta do it some way – not necessarily always using a plan or a strategy.
But sometimes, you just have to jump in hoping to tackle things as you move on.
That's the pantser way of doing things. And at times, it works.
Recently I have to do a lot of things the pantser way because I have a hyper-active toddler around me most of the time.
So I don't really get to plan a lot of things with my business. But I still get a lot of things done.
If you want to know how, watch these two videos:
So if you are a pantser blogger out there – you can still succeed with NaNoWriMo, or at least give it a try. What say?
Here are some working tips you absolutely need!
Make it a commitment
Writing loads of words, 50000 in a month to be precise, is a gigantic goal. And a goal this big needs a lot of commitment.
Even though you are a pantser, you cannot do this without the commitment.
So make sure you dedicate some amount of time EVERYDAY to get your writing done.
No matter whether you write by giving a focused time chunk of 2 hours a day, or whether you write in sprints by getting your writing done in ten minute breaks here and there, you NEED to write EVERYDAY.
You choose however it works for you. But you DO it.
Make it a commitment, a non-negotiable one.
Free up yourself
You see, with NaNoWriMo you have a gigantic goal. And it involves a LOT of writing.
So you cannot possibly write that much word count while also attending to loads of other stuff on a day to day basis.
Which means you have to free up some time so you can devote that time into writing – just be practical.
Cut short the amount of time you spend on one or two daily tasks and you will get some more time to write.
I am NOT saying you should stop doing your regular stuff to get to writing – if you can do that, great.
But just by carving some time off, you can make the time to write. That's my point.
You can give up watching TV, give up Facebook (apart from using it for business promotions, connections etc.), reduce a bit of your napping time, perhaps give up a few outings and so on.
Remember, you also need to live your life 🙂 And life happens too.
Accept the reality
As I just said, life happens. You could get sick. Your kids could get sick.
You might have to participate in get-togethers. And November is a month of celebrations too.
No matter what happens, give it your best shot to get your writing done for the day.
If you can not write in a day for any reason, accept the fact and don't get demotivated.
You can simply catch up the next day.
Accept the reality and embrace it.
Plan in short spurts
Even though as a pantser, you jump into action without a plan, it really does help to make short term plans.
For instance, you may not have done the prep for NaNoWriMo in September, but that doesn't mean you can not get on with it.
You could brainstorm for what you need to write tomorrow, today. And then you tackle each day like that.
You think this is stupid? That's how I am doing it this for year's NaNoWriMo and so far I'm doing great!
As a mother who takes care of two toddlers, who is responsible for ALL of the household (I have no maid), and as a full time business owner (which is a multi-passionate business by the way) – I cannot do everything with a plan.
So I plan for the short term and go with the flow.
Build the momentum and then use it
The very first day of NaNoWriMo is very tough. Even though you are super motivated, it could be pretty hard to hit that word count.
And then, when the first weekend arrives you could really see a dip in motivation because you would slightly lag with the word count if you spend your weekend with more family time.
But when you manage to run the first few days by hitting that word count, you build momentum.
Once the momentum is up, you will find that it gets easier in the consecutive days to hit the word count.
Just like the muscles in your body that adjust to your vigorous workouts for a few days, your writing muscles will adjust too.
And you will find to have improved with your writing flow over the consecutive days.
You build the momentum first and then, use it. Just like surfing on a giant wave.
Be very flexible
This is a counter advice if you think of yourself as a planner. But this works great if you are a pantser.
Do not be rigid with your writing schedule.
If you hate to have a fixed word count goal for each day, or if you think you cannot make it work that way, feel free to set a weekly goal.
Rather than setting a word count goal of 1667 words a day, you can set a word count goal of 11669 for the week.
May be you can spend 3-4 days a week in "writing" mode and get this word count done, and carry on with your regular works for the other days of the week.
Also allow yourself to write any where.
While it is true that your writing would be a lot easier and the flow would be smooth if you write in a dedicated place, you should also be prepared to write anywhere.
Are you commuting? (Assuming you are NOT driving) You can write using your laptop – also helps when you are stuck in traffic.
Are you waiting for your turn to see your doctor? You could write using your phone or tablet.
Whatever works for you!
Define YOUR NaNoWriMo
I see this as the most important tip of all.
If you are like me, you have a 100 other high priority things in life to tackle right now, other than NaNoWriMo.
Kids occupy the top most position in my list. And then there's family stuff as a whole.
And then there are my other business activities that can't wait. An important email from a client needs to be replied on time.
My regular blogging activities need to be done too.
I regularly publish on multiple blogs and I run three YouTube channels.
These are the things that I cannot stop doing for NaNoWriMo's sake.
And then there are regular social media promotions of all the content I publish!
There are family get togethers that I cannot avoid.
And I am sure you are like me too!
So define your own NaNoWriMo. It doesn't have to be 50000 words of novel. It can be 30000 words – say, 30 blog posts that you can use for the next few months.
It can be 20000 words – say, a free ebook that you can offer your subscribers (to build your email list).
It could be 40000 words – say, a high quality course that you can sell on your blog.
Your business has its own requirements and you know what's needed now.
But your goals and your schedules need not match up with that of the official NaNoWriMo.
Got my point?
Got my tips? Time to get on with your writing! Happy NaNoWriMo (your way).