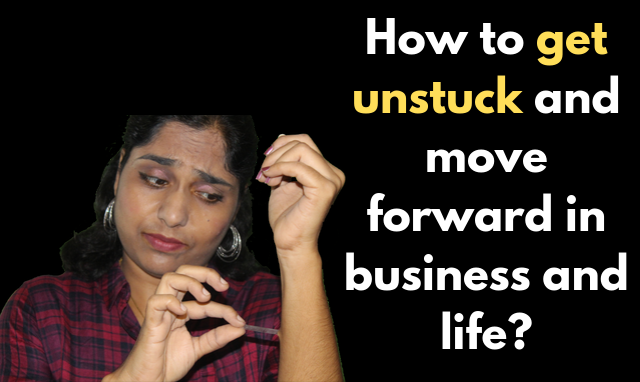 Getting stuck or having no progress is something we all come across. It is not new.
If you have been feeling stuck and think that you don't have made any progress either in business or life, here's the thing – you are not alone.
Any great enthusiast or a successful business owner or a happily living person has always had this episode of feeling stuck.
It is usually a phase that extends for a particular period of time – the time depends on how fast you choose to take action to get unstuck.
Now, even though getting stuck is quite normal and everyone has gone through it, that doesn't mean it is OK to stay stuck.
You absolutely need to get out of that stuck state because if you don't do that, you will be well, stuck at a point in your life or business.
Stuck means, no progress, no moving forward, nothing. And that ain't good, right?
So let's figure out how to really get unstuck and move forward.
#1 Realize and accept that you are stuck
This is THE number 1 thing you need to do to get unstuck.
Because unless you realize that you are stuck, you are not going to take any action to get unstuck. That's a straightforward reasoning, right?
So this means you need to analyze your efforts and the results you get by putting those efforts.
If your efforts and the results don't equate, or if they seem disproportionate, its highly likely that you are stuck.
In addition, being stuck could also mean that you didn't put any effort into moving forward.
So from realizing that you are stuck to…. to do something to fix it, you need one another key thing and that's accepting the fact that you are actually stuck.
Because many times our mind won't let us accept failure or stagnation or shortcoming.
Once you realize and accept that you're stuck, bravo, its time for the next step.
#2 Zoom back and look at the big picture
Getting stuck is often associated with you looking too much into the details. A very detailed view of things in life and business is crucial.
But it is even more important that you often zoom back and look at the big picture.
So what happens when you zoom out?
You will be able to clearly see what you have been overthinking or overworking about.
You will be able to unearth strategies or methods that are actually giving you results, and also identify the strategies or methods that don't work.
You will be able to clearly see what your why is, and where you are actually headed.
In most cases you are not really headed to your goal backedup by your "why".
Or you are not moving forward with the necessary momentum to get there.
So you get to realize all these things only when you zoom out and look at the big picture.
#3 Set goal(s) and make a game plan
Now that you have realized that you are stuck and you have an idea about what's wrong, its time to fix it.
So let's fix that by starting with your "why". There's a why for anything and everything you do with business and life.
Why you are in this particular relationship?
Why are you doing this particular business?
Why did you make this particular decision in life?
Everything you do in life and business has a "why".
Bring up that why and remember it. Now you need to set a realistic and precise goal that aligns with your why.
And remember, a goal is just a wish without a plan.
Related reading:
#4 Bring it all together and get into action
Now I can't give you any more detailed steps because after this point, things really get personal.
Everyone's why and goals and plans will be much different.
But here's what needs to be done in any case. You just have to sit down and bring all the bits and pieces together.
Your realization or the data that tells you that you are stuck, your why, your goals, and your action plans.
All these need to be put together so you can actually get up and move away from the stuck position.
You don't need to do things with utmost speed. What's important now is that just get unstuck.
And then do things with your way, at your own pace.
The most important thing right now is that you get moving.
Related reading: