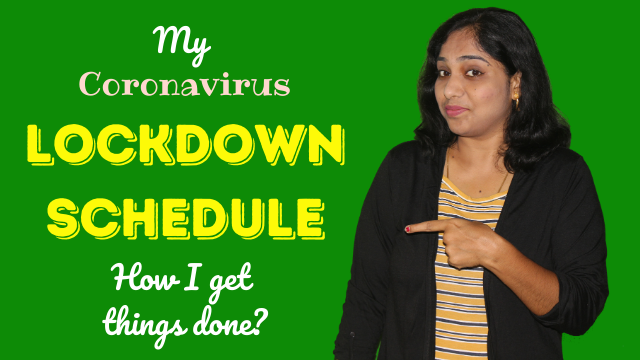 Being on a lock down is no joke. Due to the Coronavirus pandemic, the Earth is on a lock down.
We all miss our regular schedules. The only positive thing is that all members of the family are under one roof.
With no schools, or colleges or workplace to go, we get to spend a lot of family time together.
At the same time, unable to go out anywhere and do any kind of outdoor activities can be suffocating.
Plus since everyone is at home all the time, getting things done can be challenging for many.
In addition, it can be really challenging to keep the kids occupied.
In this video let me share my Coronavirus lock down schedule and show you how I get things done while staying sane.
#1 Have a schedule
I am a big believer of a schedule. Without a schedule I couldn't imagine getting things done.
It is true that it could be challenging to have a schedule while everyday is like a weekend.
And by schedule, I don't mean having an extremely strict schedule during this lockdown.
It is very important to enjoy the family time too.
But throwing away the concept of schedule altogether can get you in trouble.
Without a schedule it can be a hectic and chaotic affair to be staying indoors and trying to get things done.
In addition, having a schedule means you respect your biological clock.
With a schedule, you can eat and sleep on time.
A little bit of sleeping in and messing up with schedule is OK though. And that leads to the next point…
#2 Be flexible
This seems to be controversial to #1, right?
Well, the key is to strike the right balance between #1 and #2.
Too strict of a schedule will make the lockdown quite boring and frustrating. At the same time, too much flexibility will mess up things.
But since the family is together, it is crucial that you spend enough time with the family members.
The kids have to be entertained, and looked after.
This could be a round the clock business for some parents if they fail to have a schedule.
Which is why you need to have a reasonable schedule allowing enough flexibility to attend to the family needs.
#3 Exercise
I cannot stress enough the importance of exercise while on a lockdown. When we were freely out, we would have had an active lifestyle.
Even if we are tied to our screens, we would be freely moving around. We would take a walk if we want to, play outdoor games, commute to work and be more physically active compared to the current situation.
For instance before the lockdown, I would play tennis every morning for about an hour, six days a week.
And I would also walk on the treadmill for about 30 minutes, 3-4 times a week.
With lockdown in practice, there is nowhere to go or practice outdoor sports or workout.
But that doesn't mean I can skip workout altogether.
Having no physical activity during lockdown will take a toll on your physical and mental health.
Being idle, with a sluggish schedule will make you gain weight. It can cause your sugar level to rise and will disturb your metabolic activity badly.
And being like this for weeks can get you into various other complications too depending upon your age and medical history.
Now during the lockdown, I walk on the treadmill everyday for about 30-40 minutes. And then do some workout to burn some fat, get fit and strengthen my core.
Among the hectic everyday schedule, I make sure I carve out time for this – a suitable time when the kids are asleep and everyone is taken care of so no one needs me for a while.
This way I don't have any excuses to tell myself to skip the workout!
#4 I plan as always
Just as I plan my week every Sunday before the lockdown, I do the same even now. I just go a little bit easier on myself than before.
I have clearly explained how I plan my year, the week and a day in one of my previous videos. In that video, I also share the tools I use to keep my business and life in shape.
I do the same now during lockdown too.
And surprisingly, I get a lot of work done and my progress is really good.
The good thing with planning is, I don't wake up and figure out what I do when I get a chance to work. This makes a big difference in my opinion!
#5 Engage in relaxing activities
I make it non-negotiable to engage in relaxing activities everyday during this lockdown period.
Without relaxation it can become really frustrating to cope. It can make you mad.
And when I'm frustrated or mad, I don't perform or behave well. I am sure you are like that too.
The fact that I manage to get a lot of things done, and be very productive during this lockdown, when the kids are with me 24×7 is because I am sane.
And I am sane because I relax as much as I can. So how do I do it?
I make sure I get enough sleep everyday. If I work late during any night, I catch up the next day with a nap.
I have some "me" time every day where I briefly read a book or listen to music or watch a movie – basically "putting my feet up" time.
In addition I make sure I bring the family together and we spend a few minutes together.
During this time, we play board games, or dance, or play I spy, or puzzles – anything that works according to our mood.
And that my friend, is my Coronavirus lockdown schedule. When the lockdown was announced I was pretty afraid about how I would manage with the whole family under one roof.
I was worried about how my work will be affected and so on.
But to my surprise things are going really good.
Nevertheless, I strongly hope this situation passes away soon and that we get back to normal.