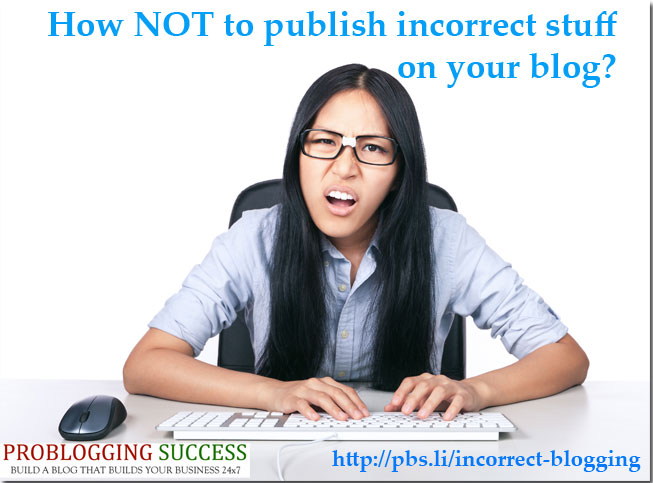 So you have a blog that acts as a marketing tool for your online business. You expect your blog to gain traction and attract clients/customers for your business 24/7. That is a very reasonable expectation.
You create and publish useful and awesome content in order to attract traffic to your website.
You intend to be useful; so you create content that is supposed to help your customers. There's nothing  wrong in your approach.
But then what if you publish wrong/incorrect/misleading information on your blog? This is serious. You will mislead people with wrong information – based upon what you share, you could potentially jeopardize someone else's business or life!
Think about publishing incorrect dieting methods, or wrong information about meds or wrong business strategies!
You will not only ruin your reputation but you will also ruin the life/business of your readers quite easily.
In this post, I thought I should answer one of my subscriber's questions (reworded for clarity, and depth):
How can I stay away from publishing incorrect or wrong stuff on my blog? I am concerned about my readers. I want to be faithful to them and I want to genuinely help them – so I don't want to mislead them by publishing wrong stuff. At the same time, this fear is keeping me from publishing anything on my blog!

Whenever I come up with some content, I seriously doubt if what I say is correct or not and I hesitate to publish on my blog. Please help me overcome this "syndrome"!
Great question! And let me answer it in this post.
Do not write about what you don't know!
In order to make sure you don't publish any incorrect stuff, it is quite safe not to write about what you don't know.
First of all if you create content on a topic in which you are not an expert, it will show off quite soon. It won't take long for people to "smell" your ignorance on the topic.
Gone are the days where you can start blogs on all topics under the sun in the name of "niche sites" and create/outsource content to make profits.
Nowadays, you cannot write rubbish. People come to your blog for a purpose. They either need help, or they need information on a topic.
If you tease them with your immature content they're not going to stick to your site. Even more, they'll immediately bounce off and will never come back which is fatal for your business.
So make sure you know what you are talking about before you create content on a topic.
It is very common that most bloggers simply show themselves off as "experts" in fields they're not experts in. This is no joke. Times have changed.
You need to be involved in the content you create and you have to know for sure whatever you share.
Be it a technique or a tip or a statistic – know what you are talking about.
Do intensive research on the topic
It is not necessary that you should only write on topics that you are an expert.
Of course if you want to share useful stuff to your readers while you are in the process of learning that's totally fine.
But now since you are in learning mode you could make mistakes! That's realistic and you can do nothing about it.
And, that need not stop you from sharing your learning experiences, your mistakes, your failures and what you have learned so far.
However while you are attempting to publish content on your blog on a topic in which you are still a learner, you should be very careful since you could publish incorrect stuff out of your ignorance.
You might not know stuff for sure and this will reflect in your content. In order to avoid publishing incorrect stuff and in order to avoid providing misleading information to your readers (and hence ruin your reputation) you should be doing intensive research on the topic before you attempt to create content.
In fact, heavy research is not only necessary when you are writing on a topic that is not very familiar to you; even for topics in which you are an expert at, researching is required.
Looking for similar topics, stats etc. around the web will help you know more about what's going on in that area.
You will come to know if someone has already written the same thing – if so how you could fill the gap? How could you add more value? How could you make it more interesting and more useful? – and things like that.
In addition, research will help you write with confidence – even if you are not an expert (yet) on the topic, researching will give you a feel of familiarity on the topic so you can infuse confidence in your voice.
Plus, coming to the focus of this post, by doing enough research you can be sure about what you are talking and hence you won't publish incorrect stuff.
Back up your claims with references
Just in continuation with the previous point (of doing intensive research) you should be able to back up your claim with references. Sometimes it is inevitable to totally avoid presenting any figures or facts on a blog posts just because you don't know about it.
Even though it is better to not write about such things in the first place (according to my first tip in this post), sometimes you have to do this.
If that's the case you have to make sure that you back up your claims. Do research, and don't forget to collect the necessary reference material while you're on it.
When you create content, back up your claims by linking directly to the reference material that you collected. If you are going to share a statistic, directly link to a page where you found those numbers.
This will not only increase your confidence while you are creating content but this will give your readers a chance to trust you.
You content will be authoritative and will sound firm and good rather than looking like some random guy/girl sharing some random information.
Get expert opinion if needed
If nothing helps and if you are still doubtful about sharing something on your blog, you can always get expert opinion on the topic. I hope you have some useful connections already. If not you should build connections.
As I've pointed out in one of my earlier posts, you cannot build a blog by being a one man/woman. You need a community of real people who will visit your website, consume your content, do business with you and keep your business afloat.
Similarly you need peers and mentor(s) to help you move along in the right direction. Unlike your visitors/customers, peers do not tend to consume information from you or do business with you (although that might happen).
But peers and mentors usually have some extra experience and expertise on the topic and hence they will be able to guide your through various stuff in your business.
And yes, you can contact your peers when you have doubts or if you are unsure about something that you very much want to share in your blog.
Getting a second (or multiple) opinion(s) will help you publish that stuff with confidence and you can avoid publishing incorrect material on your blog.
So how to publish only correct information on your blog?
There you go! I gave you four tips to do this. Publishing incorrect information on your blog is quite dangerous as I have pointed out in the introduction.
You cannot simply publish anything that comes to your mind. As long as you write it in a private diary (online or offline), it is OK.
But when you put something online for the public, you are accountable for the same. In addition when you claim to help people and offer products or services and do a business online, you have to be very careful about what you publish on your blog.
Publishing incorrect or wrong information is no joke and you could jeopardize someone else's life or business.
I hope these tips will help you overcome this problem. And don't let that "fear" stop you from publishing. Apply these tips and keep publishing. Keep helping others. And keep doing business!