Without marketing, a business is nothing.
No matter how much value you provide and how much you stand out, if you don't let people know about your awesomeness, you won't be found by them.
Build it and they will come no longer works. May be because there's too much information and too many businesses out there.
But don't get disappointed just because you have too many businesses similar to yours.
Every business has a unique purpose and so does yours.
So if you managed to find out your UVP and if you managed to position yourself in the market, you can rock it.
You can stand out and let people know about your awesomeness, quite easily.
Now whenever I say "let people know" – there comes marketing into the picture.
There are countless online marketing ideas using which you can market your home based business blog.
But I won't be overwhelming you with all those ideas – not to mention most of them are not only crappy ideas but also will make you look like a spammy marketer.
I'm a fan of minimalist approach and always will be; which is why I've shared only 4 ways to make money with a blog in my report "Can I Really Make Money Blogging" – the ways that worked for me – tried and tested on me.
I'm seriously not a fan of 100 ways because I'm sure if I give you 5 or 10 ways to you I won't overwhelm you and you will be interested in taking action!
So let's dive in to see what small business marketing ideas I have to for you!
#1 Building Authority
Here, we are talking about home based business blogs and not blogs that are anonymous sites that sell products or earn through advertising or affiliate commissions (most commonly called "niche sites" – but that name also applies to authority blogs – that's a different story).
So, in my opinion, when there's a business, there's a brand. And there's authority. People don't buy stuff or do business with anonymous people.
People don't take the words of anonymous people; but they do trust and listen to authorities.
And with authority, there comes marketing power. I mean not just "any" marketing, but marketing with "power" – that's just powerful.
When you become authoritative in a niche, your online business marketing becomes much easier in fact.
When you are a person who is considered an authority and as a go to person for advice in a particular niche, people will line up to promote the content you publish (and of course, to buy from you).
[clickToTweet tweet="Online marketing becomes much easier when you become an authority in your niche!" quote="Online marketing becomes much easier when you become an authority in your niche – that's the message here." theme="style4″]
So, how do you gain authority?
There are various possible ways to gain authority in a niche in a quicker manner.
But it is also important that you don't settle down for a quick authority that lasts for a few months and then everybody forgets about you.
The kind of authority I'm talking about here is long lasting authority that will help you with marketing your business almost on autopilot.
Sounds interesting, right? OK so here's how you build online authority.
Provide value
Yes with value comes authority and not many people agree with me on this.
You don't have to wear branded suits and you don't have to spend a million dollars in marketing your online business, but if you simply provide awesome value, you will be "known" for that.
You can provide value in various ways! Your content on your blog is the first place to start with.
And then when people reach out to you via email or via social media, provide value even outside of your blog.
You should be known for the "kind" of valuable content you produce and this alone will earn you authority – not only in the minds of people but also in the eyes of search engines.
You publish high quality valuable content on a topic and both people and search engines will look at you as a go to person on the topic!
Expand your knowledge
You cannot simply try to become an authority on a topic or provide high quality content without really knowing stuff!
Knowledge comes first and without that you won't be able to build authority – I mean, you can't fake it, right?
So make sure you have in-depth knowledge in your niche.
You don't have to be an "expert" to start with, but it is really important that you don't settle down with your shallow knowledge.
You have to continuously spend time and even money on educating yourself and expanding your knowledge in the niche.
You have to keep yourself updated.
Connect with people
Now, this alone does not work to building authority.
I mean, you cannot be a person who provides no value and try to gain authority by simply connecting with other authorities.
This method works only if the above two are already in place, that is, (i) providing value and (ii) expanding your knowledge.
We all know that running a business is never a one man or a one woman show. You have to involve people.
Now, there are two types of people that you'd want to involve.
The other authorities in your niche – who already have experience and authority. These people will be your peers and pals and will also provide advice, assistance and support!
Your potential customers – people for whom you are building your business.
OK so now let me move on to the next big thing when it comes to marketing your online business.
#2 Content Marketing
Creating content that people and search engines love makes your content marketing much easier.
Of course, throughout this section, I'm assuming you are creating killer content. That comes first.
Without quality, no matter how much marketing you do, it's not gonna work.
And even more, you are just going to "invite" people to look at your crappy content when you market your crappy content.
So here are the tips that worked for me.
Create useful content
Useful content is something that fills the gap. It tells people something that they didn't know.
Or it tells them how to do something much more effectively than they're doing now.
Or you can provide creative ideas to give the already existing methods a good twist – just to make it more effective, much enjoyable or to turn the tables – whatever.
People like to learn new things and if you are there to provide something new and useful, you got it.
When you create useful content, it is easy for you to stand out.
And, whenever I say "new" you don't always have to invent something. You can give an old boring idea a new color and people will love it.
To help you with creating great content for your blog, I have an exclusive e-course. Check it out by clicking on the image below: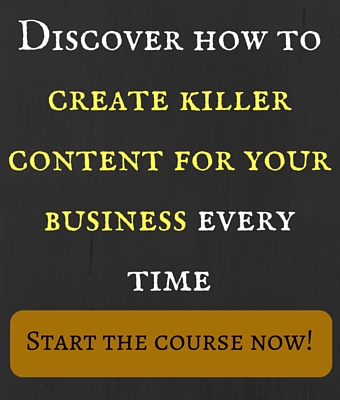 Create findable content
It is really important that your content is findable by people. So how do people find content online?
A majority of the "findings" do happen via search engines and some do happen via other means such as social media. But for now, let's focus on making your content findable in search engines.
In order to write findable content, you have to first find out the right keywords that people in your niche type into the search boxes when they need to find out something – it could be more information, a solution to a problem, an easy way of doing something and so on.
But you gotta find those "keywords".
I use two tools on a regular basis to find out the right keywords and create content that is findable: Semrush, Keyword Tool.
Create content that is sought after
Again, you will need to use tools like Semrush, or Google Keyword Planner to find out the most popular search terms.
I can go on with "teaching" you how to find out the hot keywords, but that's out of scope of this post. I'll write a dedicated post for this topic.
And, content that is sought after easily converts!
#3 Building Rapport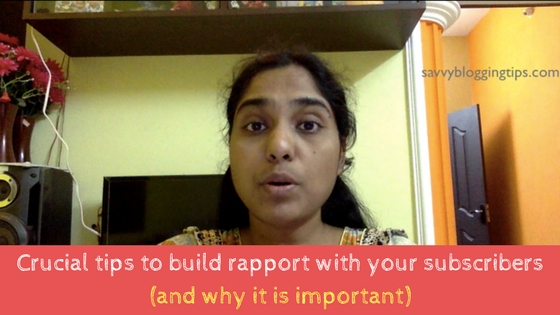 I've always said time and time again (wherever I write) that the contacts you earn with time are golden.
The number of (genuine) contacts you have, will make it easier for you to market your online business blog.
But building rapport is far more than just gaining contacts or introducing yourself to contacts.
By building rapport you are not only building contacts. You are building genuine connections. That's really special.
[clickToTweet tweet="When you connect with people and their feelings, marketing becomes a second nature" quote="When you connect with people and their feelings, marketing becomes a second nature" theme="style4″]
That is, I'm not saying that if you build rapport with people, you will become a great marketer.
I mean to say that your business will have this nice feature automatically built-in and it will be seamless.
As I said earlier, people buy stuff and do business with real people they can trust; you can easily build that trust factor when you have a connection with your potential customers!
I have this related video where I talk about building rapport with your email subscribers – although quite not directly related, you could certainly use the tips (and given that the next tip is email marketing!)
#4 Email marketing
Most people still think email is old school. It doesn't matter if its old school or not, the plain fact is that it still works GREAT – greater than most marketing "tactics".
With email, things get more personal – kind of one to one.
Plus you get the privilege of landing into your potential customer's inbox DIRECTLY. Isn't that a great opportunity?
I can go on and on talking about email marketing! Coz I love it so much! Coz it still works 🙂
Since elaborating on email marketing is not the particular focus of this post, I will point out some of the resources:
And yes, I do highly recommend a premium autoresponder service like Aweber or Getresponse.
Here are a couple of posts that will help!
#5 Social Media Marketing
Social media is best known for its capability to distract. I'm not kidding.
How many times have you read in any "productivity" or "time management" related article that you have to shut down social media sites before you can actually get any work done?
Nevertheless, they are awesome avenues to market your online business. Why? Because your potential customers hang out there.
Connect and market your content (automagically)
And have you forgot the fact that social media is a place to connect (and build rapport)?
It is a place where things get a bit informal and gives more room to connect and breathe.
So instead of being a "punch on the face" marketer, you can be quite casual and friendly while you promote your business on social media.
Market your content in a variety of ways!
The second advantage is that every social media platform is different – so you get variety of ways to promote your content. And you must absolutely leverage this variety!
Be it tweets, adorable pins, funny updates or videos – you got it!
You can leverage a single piece of your content, give it various forms and spread it across the social media avenues for people to be received as per their preferred taste.
Use the 70/30 rule
Signing into social media accounts and posting ONLY your content is plain boring. No one will listen to you!
I mean, how do you expect to provide quality, and keep your followers informed and educated only with your own content?
And how do you expect to grow your business without appreciating your pals?
If you are asking me:
 Jane, they're not my pals! They're my competitors and you want me to promote their content 30% of the time I do my social media promotion?
You are wrong and wrong!
They're not your competitors – they're your pals!
And I didn't tell you to promote other content 30% of the time, but you have to promote others' content 70% of the time.
Trust me on these two!
Small business marketing ideas: Takeaway
As you've read in this post I have not overwhelmed you with a 100 online business marketing ideas!
I've given only 5 EFFECTIVE strategies that will help you rock with your online marketing – seriously!
Here they are:
1. Build authority (in your niche)
2. Content marketing
3. Build rapport
4. Email marketing
5. Social media marketing
I've also given you ample tips and ideas on "how" to do these effectively.
While there are hundreds of ways to market your home based business, why did I choose these five?
Coz I know these five strategies are really effective and they work great if you consider the long term effects!
Once you cross a particular threshold, these marketing strategies will demand relatively lesser time from you (except content marketing), while at the same time, your marketing output (ROI) will increase exponentially!
But yes, initially you have to be determined to put in time and effort until you reach that threshold!
Let's talk about the rest in the comments below. I want to hear from you.