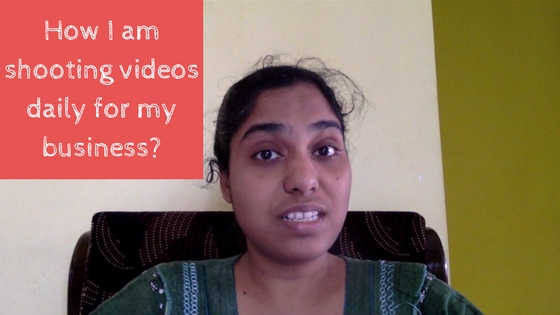 It's New Year, right? So we gotta make some resolutions, right?
Not really. I don't consider New Year alone as a time to start something new or to get committed to a habit.
Having said that, this New Year I started shooting daily videos for my business.
And I didn't announce it anywhere – even I didn't have the "thought" of making that resolution to myself.
I just started doing it – just like that – for about 5 days in a row and then, here I am shooting everyday.
For the past 1 year, I had let my business take a bit of a back seat because I had a new born (currently 1+ yrs as I am writing this post).
I am the sole care taker of the baby (although I have a supportive family, she's so much of a mommy baby). And I am almost the only one taking care of the business too.
So it had been quite tough and I had to pause shooting professional videos.
Now that she is just over a year old, things are getting busier as she is a lot more mobile and curious.
So my "work" at home is totally off schedule and just goes with the schedule of the baby. This means almost no time to shoot videos.
Even if I get some time while she sleeps, making the set up at home will take a while and I am always on my toes – in a tensed state – asking myself what if she wakes up after everything has been set up.
And if I speak aloud for the video that will also wake her up.
Obstacles.
So it will take a couple more years or so to be able to freely shoot professional videos at home.
What are those professional videos?
Those are nothing but videos shot with my camera (Canon EOS 700D 18MP DSLR) placed on a tripod, with the back drop, the laptop with the camera software running, and me dressed up neatly.
And of course, talking with a script.
But if I have to wait until I get the perfect time to shoot those videos, my business will have to go another couple of years or so without me being able to create any videos at all.
So I thought to myself – instead of waiting for the perfect time to shoot professional videos, I should shoot casual videos. Of course the content should be top notch, helpful and interesting.
But if I don't have the time to do the technical set up and dress myself up what should I do?
I have two options.
Well, I can go on the "pause" mode to shoot videos for another 2 years or so.
Or I can just jump in and shoot casual, raw videos whenever I get 10-20 minutes of time in between my juggling all day.
And I went with the second option.
I have started shooting those casual, raw videos daily – usually after 9:30 PM when I manage to put my baby to sleep and finally the house is quiet.
In these videos, you can see me in my casual outfit – sometimes hair tied, while sometimes not.
I shoot these videos on my Mac using Screenflow. I also edit using Screenflow. I make the custom video thumbnail/screenshot using Canva.
That's it.
And I upload it to Youtube and schedule it for publishing. I don't always upload all the videos I shoot.
And you know what? I am starting to love these videos.
For one – they are great convenience to me.
I just start Screenflow in my Mac (that is already ON), and go shoot the video when I know I can have 15 minutes of uninterrupted time.
How great is that?
You would realise the importance of finally having 15 minutes of "sane time" to record a business video if you had a toddler running around and a baby screaming to get hold of you hahaha.
Anyway – it is super great for me without having to think about anything else but to jump right in to work at the moment I get 15 minutes of "me" time.
Secondly, since the amount of pre work and preparation is not much, I am so far being consistent despite my chaotic schedule.
Of course, doing the preparatory work for a professional video is totally worth it – you end up having a professionally looking video.
But at the moment I have decided to only do such professional videos for my Youtube channel intro, site intro and for my e-courses.
For regular publishing at my blog as well as on my Youtube channel, I love doing these videos as they are so easy to get done.
Of course, I don't compromise on the quality of the content in the video for anything else. I don't shoot a video just because I have to shoot on that day.
In order to overcome this issue I make sure I have loads of video content ideas along with the outlines already done for a few months upfront (something I did in the last couple of weeks of December).
Thirdly, I do these videos without the script – now this can come as a shocker to some.
Yes, I admit that – I shoot these videos without script. And that may give out some "ummm", "ahhh", "you know"s – but I edit those out.
Writing a script, rehearsing the same and then shooting the video is going to take a lot of time from writing to actually shooting.
Hence, I wanted to cut that off to make the whole process a lot easier, manageable and so I can be consistent.
And it works fine.
But I do have an idea and an outline ready in front of me before I start shooting a video – I don't click on that record button and then think about what to talk!
Why am I sharing this with you?
Well, life happens for all of us. If we have to wait for the perfect time to get things done for our business, it won't be possible to get anything done.
Life cannot be a constantly perfect line. The imperfections, the chaos, the unexpected stuff, the happiness and sadness – everything makes life. Those are the things that "make" life life. Or else the name is "being dead".
For me now, its the baby. That's one of the most beautiful things that has happened in my life.
Of course I cannot forego the time I spend with her for the sake of running my business.
At the same time I cannot either quit or put my business on hold until my baby grows.
So I chose to do what works for me to keep things moving in my business. I chose to take action instead of waiting for the right time to occur to me.
I chose to come out of my comfort zone and stretch things a bit and manage to work off hours, compromising some sleep and rest for myself.
My regular day with the baby and household is already pretty tiring – but I still chose to stretch things for the sake of my business.
And I am not going to give any excuses for not getting things done.
What about you?