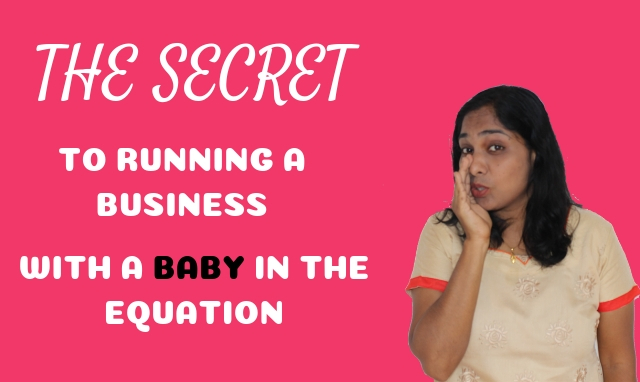 After baby #2, my business life has changed a lot. Before my daughter (baby #2) was born, I had a few years when I was all alone at home during the day.
I would send off my hubby to office and son to school. And then until they both return in the evening I would have the day all for myself.
There would be the regular household work to take care of, but still, I had a whole day without any interruption.
But during those years, I did struggle some days when my work load was high.
It would seem that I did not have enough time at the end of the day to complete all the pending tasks my business demanded.
Fast forward today, I have a baby who is growing into a toddler. Both the baby phase and the baby-toddler phase take up all of my time and energy.
I am sure the toddler phase that's upcoming will be even more challenging in that sense.
Right after she was born, my business did take bit of a back seat. Even though I get some support from the family, ultimately it is me who takes care of the baby!
And the household, because I don't have a maid (and I'm happy with it – another story!).
If you look at my day, it will be ALL baby and household work, apart from the time I eat and sleep.
So where do I get the time for doing business work?
I wouldn't lie – the thought of quitting my business surfaced a couple of times and once I went up to the point of clicking the Pay button in Flippa!
Yes I had filled out ALL the details to list my sites for selling in Flippa. But then I saved them as draft and thankfully abandoned that thought.
Don't hesitate to go the unconventional way if that works for you…
I have shared how I work on my business with a baby in the equation here in this blog post > How every business advice is wrong to me right now!
Yes every conventional business advice doesn't work for me at the moment and I am OK with it.
I multi-task even though I know it is a productivity killer, I don't batch process because I cannot carve out a big chunk of my time, I am not at the luxury of taking productive breaks, I simply can't use the Pomodoro technique that I once used a lot to get things done, I don't have a schedule or plan for a day that I can stick to, and worse of all… I simply don't plan any day ahead.
Sounds messy, right?
But I still get things done. And I still run this business and make profits.
I just learned how to get more done in less time.
Earlier when I had all the time, I would still sit on my working table all the time and work. I did accomplish a lot of stuff for sure.
But now, with a lot less time on hand (the time when the baby sleeps that is), I am still able to manage to get my stuff done for the week.
If I poorly perform one day, I make up for it the next day. This way I am able to get things done for the week.
I simply had to break all the conventional business advice that I myself had preached and practiced over the years.
I am a big fan of some of the conventional business tips. And I had to let go of them to make things work for me, given my current scenario.
I don't like multi-tasking. But I have to multi-task now because I have to some how take care of everything that demands my attention right now.
I cannot get a peaceful window of time to work on one dedicated task!
Batch processing is something I love, but I don't do it anymore. I simply can get a big chunk of time in peace.
I only get about 5-20 minutes in between time when my baby is distracted a bit.
Productive breaks during the day? Nope! I don't have to take them, because I only work during breaks.
I simply ditched the Pomodoro technique. Every time I turned the timer ON, I had to turn it off because my baby was screaming.
I couldn't have a schedule that I could stick to, because my schedule for any day is built around my baby's schedule.
When she is in the mood to play, I play with her.
When she sleeps I get to work.
But in the very limited amount of time I get here and there, I am still able to do my business work. And I am still running this business.
If I can do this, you can do it too
My brain has simply got the super power to work efficiently.
So will your brain if you are in some pressure or on a limited amount of time on hand to work on your online business.
This could work for you especially if you already have a day job and work on your online business part time.
Or if you are running multiple online businesses.
And of course this would work if you have one or more babies/toddlers.
I simply learned to make the most out of the very little time I get to work on my business.
You could absolutely make this work for you too.
Rather than complaining that you don't have time to work on your business because you have reason "ABC" you could find out how to make it work for you.