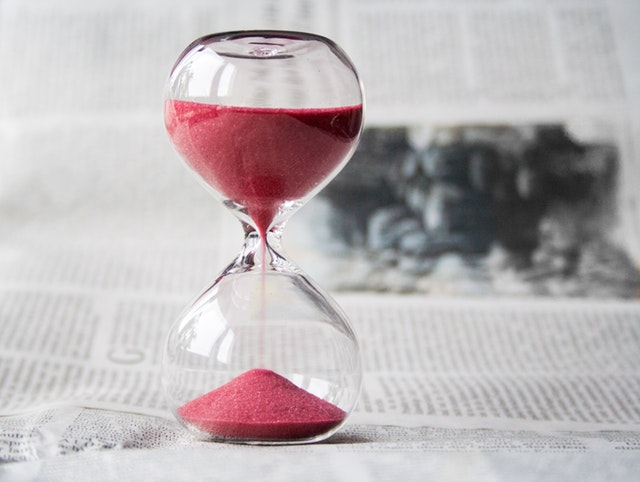 "I don't have the time to blog!" or "I am too busy to blog consistently" is something that I hear too often. Well, blogging is a tedious job.
No matter what reason you blog for, blogging is time consuming.
Unless you have the dedication and will power to pursue blogging, you are most likely to lose motivation and quit.
Blogging is not just about creating blog posts. Let's see what are all the possible jobs that are consolidated within the single word "blogging":
Content creation (of course this comes as a major task)
Keyword research (this should come prior to content creation)
Blog promotion
Blog maintenance
Commenting on other blogs
Social media (sharing, interacting, making friends, etc.)
Planning, writing and running guest blogging campaigns
Doing link and content audits periodically
Keeping tabs with SEO changes
Keeping tabs with the latest content created in your industry
… and so on.
I know for sure I have missed many items in the list and this list is different for different people, depending on the purpose and the strategy of blogging.
For instance, if you are blogging for your company, you might have different extra jobs in this list.
Now I totally understand from my own experience that blogging can become overwhelming.
It can easily lead to burnout if we don't have control of how we spend our time on the various blogging tasks (like the ones listed above).
I can totally understand when my blog audit clients say this to me: I don't have to the time to blog, Jane.
While I can understand this, it is important to realize that there are possibilities to stretch your time or make time for blogging.
Well I am not going to teach you any science on time travel here. We all are given only 24 hours.
But before we say "I don't have the time", we should think about ways to make the most out of what is given to us.
Now enough of my philosophy.
Let me dive right into the practical tips you can use to make time for blogging no matter how busy you are.
#1 Batch process
I add this as tip #1 because this is my top tip. This one tip has helped me save hours of time in my daily blogging routine.
Batch processing is doing something in batches so you can complete a BIG chunk of your work for now and for a future time.
For instance you can batch process writing blog posts, social media updates (if you use tools that allow you to schedule), keyword research, SEO audit etc.
I do keyword research in bulk once a week. I collect the keywords so I can keep a running list of ideas for the rest of the week.
Now, whenever I have the time (and mindset) to write blog posts, I can simply start writing instead of sitting around and thinking about what to write – finding a topic to write about is a great time killer!
Similarly, when you have all the titles ready, you can write all the posts you need for the week on any one day of the week in batch and then just schedule those posts across the week!
Not just with writing blog posts or doing keyword research, batch processing can be applied to any blogging task like
Moderating comments
Site maintenance
Content audit
Running guest blogging campaigns
and so on.
Why is batch processing a HUGE time saver?
It is because you don't have to switch back and forth between processes and waste precious time!
When you switch back and forth between tasks you lose a lot of time in detaching yourself from the previous task and getting engaged to the new task.
Your brain gets tired too soon if you do this a lot! Talk about overwhelm and burn out.
With batch processing you deal with one BIG chunk at a time and then you have stock for say, a week!
You can use that time throughout the week for something else.
#2 Do you watch TV?
If you have the time to watch TV, then you have time for anything.
Watching TV is a total waste of time (feel free to disagree with me if you want to).
Watching TV does no good to you! As a blogger you will be already spending a lot of time in front of your laptop.
And then if you watch TV at your leisure time or to "relax" let me tell you – you are NOT relaxing!
You are doing bad to your total health. You could give your eyes some rest; you could give your back some rest.
You could grab a book to read instead. You will be refreshing your brain.
Or you could take a walk outside. Your eyes, your back, your mind and your whole body will thank you!
Or you could play with your kids. Or do gardening – see I could give you a whole bunch of options rather than watching TV!
And you have to note that I am NOT asking you to continue to work (so you can MAKE time for blogging) when you feel like taking a break. More on this in a while.
[clickToTweet tweet="If you have time to watch TV, you already have the time to blog" quote="If you have time to watch TV, you already have the time to blog" theme="style4″]
#3 Take enough (productive) breaks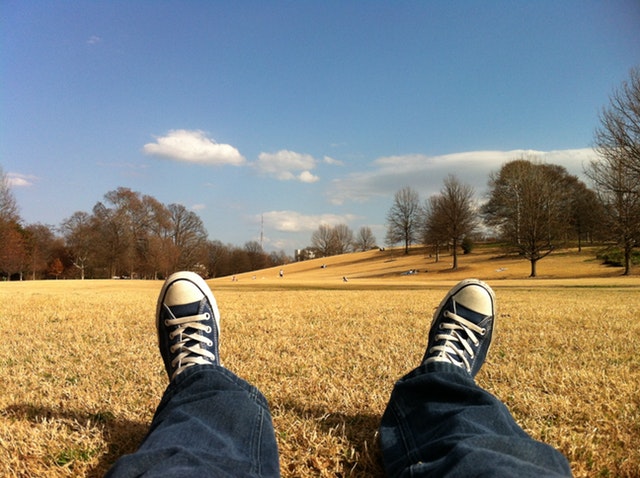 Just in continuation with what I talked under watching TV, I encourage you to take enough breaks to make time for blogging. I can say this from my own experience.
Whenever I am tired (mentally), if I force myself to work, I won't be productive.
I will simply be sitting in front of the computer, switching tabs and scrolling down on Facebook or Google+.
And to me, I'd believe that I have worked (hard). I'd assume I have spent "X" hours on "work" but have got nothing accomplished significantly.
At the end of the day, I'd complain that I've worked for so many hours but I haven't had the time to do even more pending blogging tasks.
The fact is that I have simply wasted my time on unproductive tasks – and this is dangerous because it causes an illusion that I have been working very hard and that I didn't have enough time to accomplish the blogging tasks.
I used to be a victim of this illusion! And this is dangerous. It could take a serious toll on your physical and mental health.
[clickToTweet tweet="Productive breaks will buy you more working time" quote="Productive breaks will buy you more working time" theme="style4″]
Take enough breaks.
Be it a 5 minute break every 25 minutes, or an hourly break, or weekend outings, eat outs, yearly vacations, productive naps, other little activities like gardening, playing with kids, a stroll in the park – whatever suits you – even if you do all of it!
Just give yourself enough break so your brain and body can recharge and be productive.
#4 Spend time to analyze the time spent (use a time tracking software)
OK so here I am asking you to spend time on a task rather than teaching you to save time.
But you could identify a lot of time wasting activities and optimize your time usage by analyzing the time you spent.
Having a time tracking software can help with this. I have installed Rescue Time on my laptop.
Time Doctor is an alternate but it wants you to manually input what you are working on – and I tend to forget to record the same, or forget when I change tasks.
Rescue time is automated, although you have manual input option here too.
It silently tracks what you are "doing" while you are online or offline.
Have the Rescue Time browser extension installed as well to track the time you spend on various websites.
You will get weekly emails like this: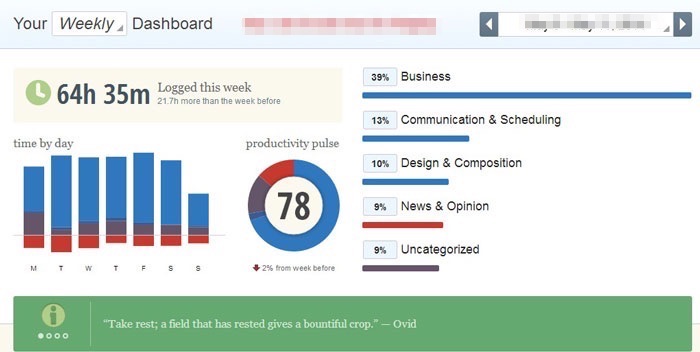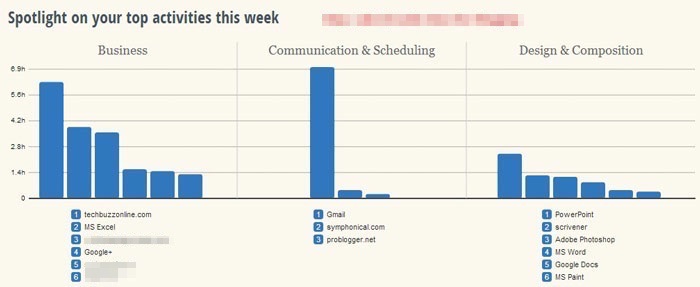 As you can see, you can see where your time is going (not just webpages, but apps included) – so you know what to eliminate from your daily blogging routine.
#5 Make use of the few minutes
Many times, you'd get about 5 or 10 minutes in between tasks.
You could think what you can accomplish in that 5 or 10 minutes; so you let that time slip through. This is a big mistake.
There are various blogging tasks that can be done in 5 or 10 minutes.
1. Replying to a couple of comments on your blog post.
2. Answering yes/no to an email.
3. Updating that software.
4. Accepting that friend request.
5. Sharing one of your old blog posts to your favorite social media platform
The list can go on.
Next time you get 5 or 10 minutes in between tasks that you think is of no use, think again!
[clickToTweet tweet="Think again before you let that 5 or 10 mins slip through" quote="Think again before you let that 5 or 10 mins slip through" theme="style4″]
#6 Be productive on commutes/waiting time and transits
Do you spend a lot of time traveling to and from work? Use that time to brainstorm for blog post ideas.
You could use Evernote, or a diary to capture your ideas. You can also outline your blog posts during that time.
If you are waiting for the Doctor or for your next plane, open your phone and outline a blog post. Or moderate a few comments. Or reply to a few emails.
Or you could use that time return phone calls from friends or family rather than talking during your blogging hours.
This will save you a lot of blogging time and help you make extra time out of the (usually) wasted time.
#7 Use automation tools (to a certain level)
There, I said it. Automating stuff is not a sin.
We all are humans and we have our limits. We don't have any super powers.
So we can only handle a certain amount of tasks in a given time frame as our capacity permits.
Instead of accumulating blogging tasks in the name of time limits, we should embrace automation.
Now, not all automation is good.
People use automation for article marketing, blog post promotion and even for blasting social media updates. I say it again – not all automation is good.
But you could use automation tools like Buffer, Hootsuite and others to promote your blog posts. Don't overdo it.
You should not abandon visiting and interacting social media altogether and totally automate all your social media updates.
You should spend time to actually visit social media sites and interact with people.
But then when you publish a blog post, you can set to automatically push it through social media at a later time (scheduling).
At the time of publishing, consider writing a unique description and put up an update.
#8 Use email templates to save time
Are you writing similar emails over and over again? Use email templates. I have templates for guest blog requests, advertising requests, registration requests (at DoSplash) and much more.
Gmail has this feature and I believe other email providers support this too.
Instead of typing the same type of message repeatedly, I can now choose from one of the canned responses that I created and save a huge amount of time!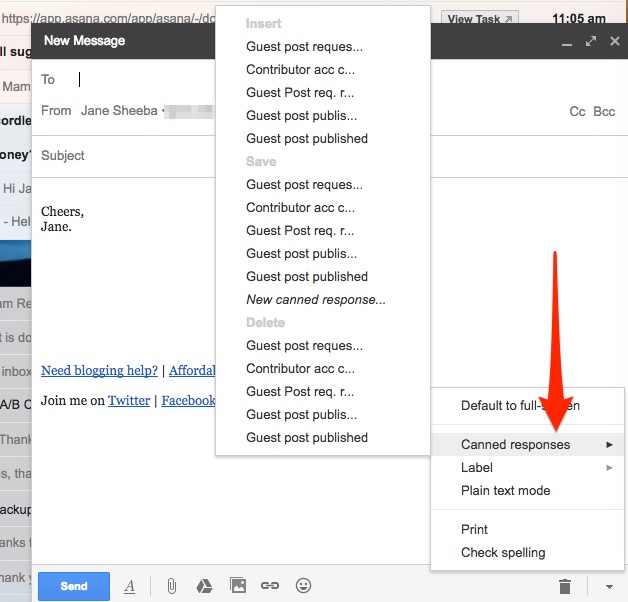 To know more about how to use canned responses in gmail read this post.
#9 Do maintenance tasks while you're not working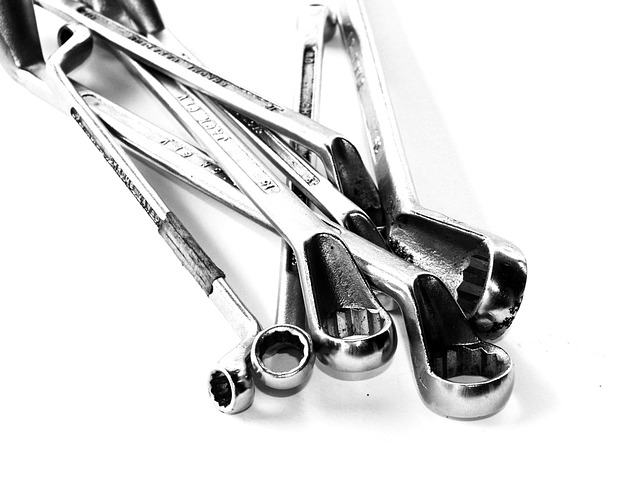 There are various kinds of maintenance tasks if you have a computer.
Updating that software, debugging a software, updating your OS, performing regular scans on your computer and much more.
If you do this while you are working, you will be wasting your time.
For instance, performing a full computer scan makes the system slow and heats it up fast.
So just start the scan when you are taking a break from the computer tasks.
Need to update a software? Click on update and let it run while you are reading a book or doing household. The same goes for updating OS!
Doing these while you are writing a blog post or doing promotion will slow you down a lot.
Your blogging task will take a lot extra time than it actually needs.
#10 Outsource!
I know, this won't be suitable for everyone and that is why I kept it for the last.
(i) I understand that you might be tight on budget to outsource certain tasks.
(ii) And you might not be comfortable outsourcing certain type of tasks and you would want to do it by yourself.
Both of the above are totally reasonable.
But you are a human being and you can only do so much. Trying to do all things by yourself is not smart!
If (and only if) you can afford, consider outsourcing certain blogging tasks.
Now, I am not comfortable outsourcing content writing except for certain niche sites that I run.
But I have an in-house manager who takes care of getting my posts ready for publishing – once I put up the post in the WordPress dashboard he finds appropriate images, add links, does formatting etc.
And gets my approval before it gets published.
After publishing, he helps me with certain level of promotion – like scheduling the posts on Hootsuite, bookmarking etc. And I pay him for that.
Since I can afford this, I am doing the same. But if you cannot afford, you should do stuff by yourself, coz I don't want you to go broke.
In that case, don't take up too many tasks – handle only what you can and leave the rest. The world won't end!
Are you still too busy to blog?
I have given you practical tips on how to stretch time and make some extra time for your blogging tasks.
Again, as with all my posts, these tips are tried on me. I am only sharing what I did and what worked for me. Nothing more!
Have you got any more tips to make time for blogging? Share them in the comments below.
And I would love to know which of these tips you liked the most and felt "aha!".
By the way, it will only take a couple of seconds to share this post in your social circle. Please do me the favor. Thank you!